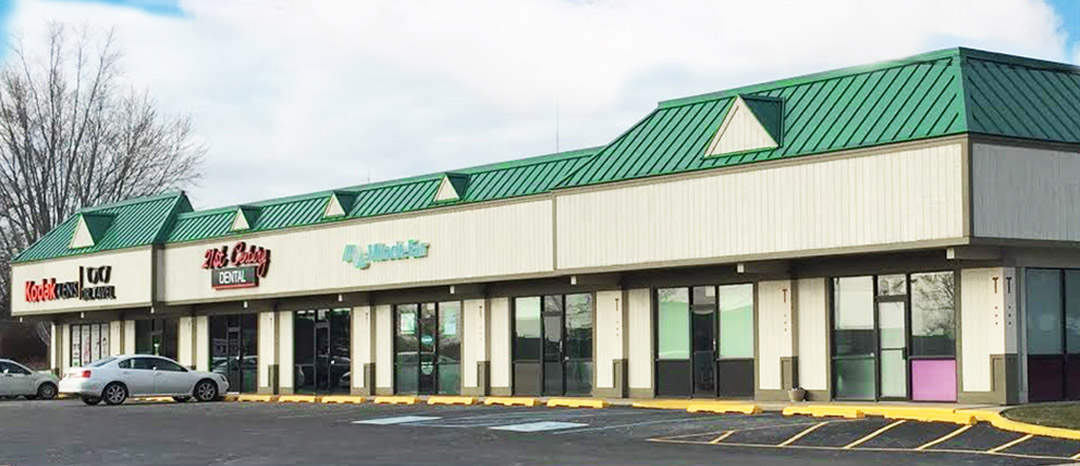 10th and Mitthoeffer, Indianapolis, IN
Typical of a Dr. Tavel Realty Group property, this conveniently located site boasts easy access, great visibility and abundant sign possibilities. The 10th & Mitthoeffer Shopping Center is situated at a signalized corner with nearly 40,000 cars per day, boasts a three mile radius with an average household income of $65,000 and has a pylon sign that totally dominates the intersection.
In addition, it features built in market leading traffic generators like 21st Century Dental, a unit of Heartland Dental with over 450 offices in the US, Miracle Ear, a longstanding successful operation with over 1,200 units nationwide and Kodak Lens Dr. Tavel Family Eyecare, operators of 19 offices throughout Indiana and which is open 7 days a week. In addition, 10th & Mitthoeffer offers a surrounding environment of stable homes with above average income and very good traffic flow.
Nearby, in addition to recession proof health, education and government related business enterprises, additional traffic generators include a local early education school, a middle school and the township high school, as well as the township administrative offices.  All of this in addition to the fact that the center sits across the street from the 1.5 million Square Foot Simon owned and operated Washington Square Mall, adjacent to an entire regional shopping district and a recently constructed 14 screen Kerasotes Theater.
Availabilities include a 3,750 SF former immediate care center complete with sinks in every exam room, a lead lined X-ray room, and a treatment room. Any medically related office or immediate care center could benefit from the presence of several hundred thousand dollars of existing improvements. That is not to mention a long established existing patient base.
Of course for the right tenant, the room can be subdivided into any multiple of 1,250 SF (20' X 62.5') either 1250, 2500 or 3750
An available, ½ acre, contiguous, out lot with corner access means that a lease/custom build to suit with the possibility of its own pylon sign is available for up to 5,000 additional SF.   In addition, an adjacent 1.5 to 2 acres allows the possibility of future expansion.
Demographics
Distance
Population
Ave. H.H. Income
3 Mile Radius
50,181
$64,722

5 Mile Radius

125,517
$58,244

10 Mile Radius

501,672
$61,760
Download the printable Flyer HERE.